Klippan Heart placemat

EAN 7340032228205
Article No. 71020156
Klippan Heart placemat
Design:Bengt Lindberg & Lotta Glave
Die schwedischen Künstler Bengt Lindberg und Lotta Glave arbeiten für viele schwedische Firmen, aber besonders intensiv für ihre eigene Marke Bengt & Lotta und der Schwestermarke die Klippan Wollfabrik. Ihre Arbeiten werden inspiriert von der schwedischen Folklore und Volkskunst. Bengt Lindberg erzielte seinen Durchbruch mit seinem Elchentwurf in den 1990er Jahren. Seinen Elch findet man heute überall in seiner Kollektion, bei Klippan und vielen anderen Firmen - sogar auf hochwertigen Teppichen. Lotta Glave hatte ihren Durchbruch 1998 mit einem ihren Engelentwürfen. Sie wurde mit dem Formex Award ausgezeichnet.
Das die beiden Grafiker das Weihnachtsmuster für die Klippan Yllefabrik ist inzwischen schon Tradition. Herz heißt das diesjährige Weihnachtsmuster. Bengt & Lotta verwendeten für das Muster die traditionellen Weihnachtssymbole Herz und Stern verwendet. Die Grafik ist in für sie typischen Stil umgesetzt. Das Muster wird in rot mit weißer Zeichnung angeboten. Mit dem Muster werden verschiedene Fertigtextilien fürs Wohnen, Kochen und ein Weihnachtsbaumteppich angeboten.
Material:cotton
Care: machine wash 40 °C/105 °F
Measurements: width 35,0 cm (13,78 inch); length 45,0 cm (17,72 inch);
Year of design:2016
Launched:2016
Country: Sweden
further products by

Klippan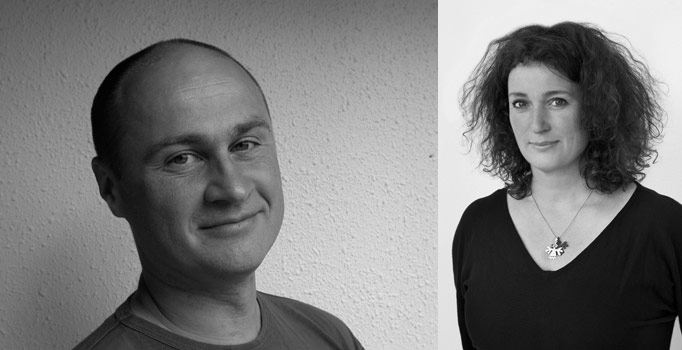 Bengt Lindberg and Lotta Glave
Bengt Lindberg and Lotta Glave were a couple already at university, studying graphic art and illustration. After graduating, Lotta got a job at one of Sweden's main newspapers, Dagens Nyheter and Bengt at an ad agency that turned out to be a pretty boring job. Neither of them could resist the flow of creative ideas that kept coming. For Bengt, it all started with a cow, which became a cast iron candleholder. The cow was soon accompanied by a sheep, a horse and an elk, all produced in Småland, Bengt's home county. Bengt made sure to launch them in all the right stores and as for the elk, it coincided with the enormous interest in elks from German tourists who would even steal the road signs of elks when visiting Sweden! The four classics are still in production and have spread all over the globe, from Sweden and Germany to the US and Japan. But it didn't stop there; the animals soon also populated printed fabrics, blankets and notebooks. No doubt the couple's backgrounds have inspired their never-ending creativity. Bengt was born in Värnamo, in Sweden but his grandparents had a farm in Skåne, filled with objects of art, handicrafts and nick-nacks. - I have always loved old things, says Bengt, especially the slightly naïve, clumsy folk art stuff. When things are too perfect they also get to be boring. Lotta Glave, who stems from Malmö believes a lot of her inspiration comes from her Austrian grandmother who worked as an illustrator and bookbinder. Their home was always filled with fun, homemade creations like fantastic doll's houses made out of lacquered paper! I love stuff that is fun, different and makes you happy, says Lotta who got drawn into the family business when Bengt asked her to draw an angel. Like Bengt's animals, Lotta's angel has spread from candleholders and Christmas tree decorations to necklaces and fabrics. Nowadays, Lotta designs most of the patterns; designs that are appreciated all over the world, not least in Japan and the U.K. Today, the couples creations are represented at Nordiska Muséet in Stockholm, Kulturen in Lund and at Växjö Glass Museum. And if you visit their little store in Stockholm you will find them surrounded by hundreds of other items; trays, lamps, furniture, porcelain, serviettes – as well as thousands of ideas that haven't materialised – yet.
more products from the designer