Georg Jensen Christmas 2015 gold ornament heart

EAN 5705145198036
Article No. 71014587
Georg Jensen Christmas 2015 gold ornament heart
The Danish luxury brand Georg Jensen as the last famous brand of Denmark introduced a collective collection for Christmas. At the beginning it got the popularity through Christmas mobile with red- colored year ribbon and gold-plated brass. The winding/intricate heart and bell was the first mobile cover in 1984. After some years the success were followed by the tree candleholders and the tree ornaments with gold chain. Since then, every year Georg Jensen is bringing two new motives in their collection for the market. Later the tree decorations with red ribbon were pursued. To more at the starting of 2000s the tree ball and annual bell were added in the collection. Since 2012, the beautiful collection has been supplemented with the collective heart.
The Danish traditional company was always committed to have new designers for the annual collection over and over again. So the premise already had the famous Christmas designer Jette Frölich, the Danish fashion designer Marlene Birger and in 2014, the paper artist Karen Bit Vejle who were committed for this festive collection.
For 2015, the successful Danish designer Louise Campbell was commissioned for the collection. Campbell was already working with such prestigious brands like Louis Poulsen and Royal Copenhagen and Georg Jensen presented her new cutlery design under the series name Campbell in 2014.
Louise chose star, mistletoe and heart as main motives. These three symbols represent typical motives for festive Christmas season. This year's heart shaped Christmas mobile is particularly nicely and richly decorated. The frame of the heart is nicely decorated with snow-covered bushes. The tree candleholder and tree decorations are a heart and a star decorated with mistletoe of this year. The tree ball and the heart are also decorated with a sprig of mistletoe. The annual bell which is based on the bell of the church in the Christiansborg palace is also decorated with a sprig of mistletoe and off course the annual number as well.
The whole collection is offered with 24 carat gold plate and some parts are also offered with silver color which are coated by palladium. The ornament is delivered with red annual ribbon and the tree ball, the annual heart and the tree jewelry with red ribbon and alternatively a pink band is also supplied in 2015.
Material:brass (24 carat gold plated)
Delivery: including red ribbon of the year and pink ribbon
Measurements: width 8,9 cm (3,50 inch); length 8,8 cm (3,46 inch);
Year of design:2014
Launched:2015
Country: Denmark
further products by

Georg Jensen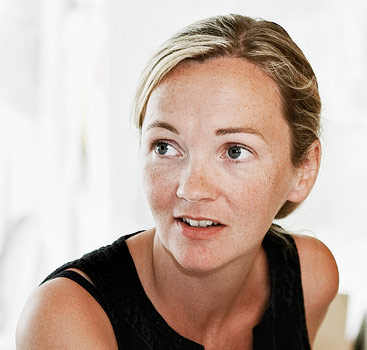 Louise Campbell 1970*
Louise Campbell was born in Copenhagen. Being the daughter of a Danish father and an English mother, she grew up and was educated in both countries. After graduating from the London College of Furniture in 1992, she returned to Denmark and continued her studies in Industrial Design at Denmark's Design School, graduating from here in 1995. She set up her own studio in 1996, from where she has worked independently since. Her main focus is on furniture and lighting design, but the studio is increasingly involved in product and interior design projects as well. Louise Campbell's work is playful and experimental, and is increasingly gaining a reputation for gently twisting not only every day objects and situations, but also materials and manufacturing processes in new directions. The combination of Scandinavian rationalism and femininity, and perhaps her dual nationality, give the works of Louise Campbell an unusual edge. Illustrating contrasts seem to be an issue that keeps returning in her work. The studio is also known for its interest in less commercial activities. Apart from being the curator and designer of exhibitions, Louise Campbell has taken part in numerous activities aiming at improving the design environment in Denmark. Among these initiatives is 'Walk the Plank', a collaboration lasting seven years between 30 furniture designers and 60 cabinet makers, all of whom donated their time and original design for a truly fine cause. There are a few ground rules the studio aims to abide by: Always start from scratch. Everything is possible until the opposite has been proven. There must be a good reason for every single decision made. Among deferent awards achieved by Louise Campbell, she won the IF Product Design Award in gold for "Campbell Pendant" in 2005, which she designed specifically for Louis Poulsen.
more products from the designer