Eva Solo Nordic Kitchen vacuum jug 1 l
EAN 5706631165709
Article No. 71023775
Eva Solo Nordic Kitchen vacuum jug 1 l
Design:Henrik Holbæk & Claus Jensen
The Danish design brand Eva Solo has presented the cookware series Nordic Kitchen for the first time at various trade fairs in autumn 2016. The company is the leading supplier for saucepans and kitchen utensils with the brands Eva Solo and Eva Trio in Denmark. The series has not only cast iron optic rather also similar properties with regard to the heat properties. The material gets equally warm and develops a lot of heat for frying. In contrast, to cast iron the casseroles and pans from the series Nordic Kitchen are wonderfully light because of aluminum. Through the Slip-Let coating which is developed by Eva Denmark the pots need nearly no fat and can be easily cleaned. Moreover, the series is suitable for all types of stove.
In addition to the series, Eva Solo also offers cutting boards made of oak and a knife block in black and white with beech wood insert.
The meanwhile succcessfull series were expanded with dish, a vaccuum jug and some accesoiries in fall 2017.
Material:stianless steel, plastic, wood (oak)
Care: handwash
Measurements: height 20,2 cm (7,95 inch); depth 12,6 cm (4,72 inch); Ø 12,6 cm (4,72 inch);
Volume:1 liter
Weight: 830 Gramm (1,83 Pound)
Year of design:2016
Launched:2017
Country: Denmark
further products by

Eva Solo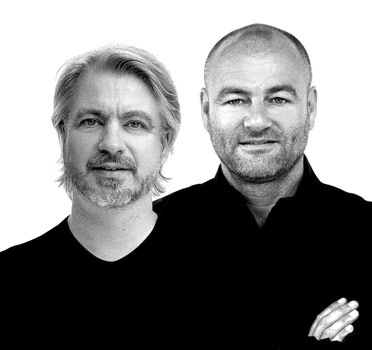 Henrik Holbæk & Claus Jensen
Henrik Holbæk absolvierte sein Studium an der Königlichen Akademie in Kopenhagen Fachrichtung Industriedesign, Claus Jensen war Student der Dänischen Designschule ebenfalls in Kopenhagen. Henrik und Claus gründeten 1989 ihr Designunternehmen Tools im Norden von Kopenhagen. Die beiden Designer haben inzwischen 200 Designpreise erhalten und zählen damit zu den erfolgreichsten Studios in Dänemark. Henrik und Claus entwerfen einen großen Teil der Eva Solo Kollektion.
more products from the designer